The Outsiders team turned out to be stronger than BIG with a score of 2:0 in the group stage of ESL Pro League Season 16. Thanks to this victory, dastan's wards gain the first points in group B and start preparing for the next meeting with FTW Esports. In turn, the German team falls to the bottom of the standings, waiting for the next match against G2 Esports.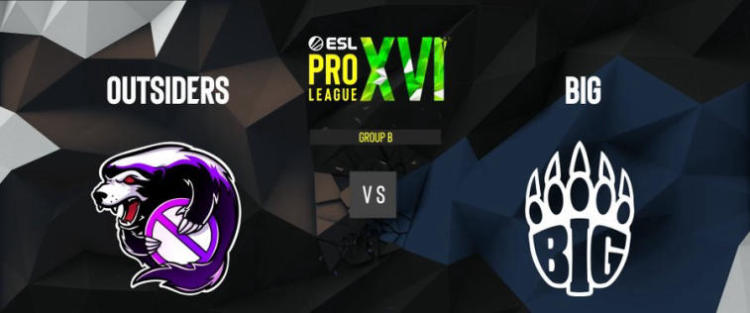 The second confrontation of group B started on the Dust 2 map, which, as expected, became the choice of the German team. However, BIG immediately had problems, as the opponent showed excellent preparation. As a result, the Outsiders players managed to convert half of the defense, getting a comfortable advantage - 9:6. The change of sides did not help the German team in any way, which, having lost the pistol series, quickly let the opponent go forward and was unable to do anything. In turn, the Outsiders played confidently in attack and took the lead in the series — 16:9.
Next, the teams moved to the Inferno map, which became the choice of the Outsiders. At the same time, the Russian team showed a convincing start in the attack, having actually resolved all the issues regarding the winner of the match in advance - 9:6. After switching sides, the Outsiders won the fourth pistol round, finally killing any intrigue. At the same time, BIG was no longer able to show its game, thereby allowing the opponent to get the first victory in the championship — 16:11.
ESL Pro League Season 16 runs from August 31st to October 2nd in Malta at the Salini Resort. 24 teams from Europe, CIS, North and South America compete for a total prize pool of $835,000. The winner of the tournament will receive the main prize of $175,000, as well as tickets to BLAST Premier: World Final 2022 and IEM Katowice 2023.
Intermediate results of ESL Pro League Season 16
1st place: $175,000 + 2,800 BLAST Premier points + ticket to BLAST Premier: World Final 2022 + ticket to IEM Katowice 2023
2nd place: $70,000 + 1,400 BLAST Premier points
3rd-4th place: $35,000 + 875 BLAST Premier points
5th-8th place: $17,500 + 262.5 BLAST Premier points
9th-12th place: $12,000
13th-16th place: Team Spirit — $19,000
17th-20th place: Ninjas in Pajamas — $17,500
21st-24th place: Endpoint — $11,000