The MOUZ team outplayed Complexity with a score of 2:1 in the group stage of ESL Pro League Season 16, thanks to which they secured participation in the championship playoffs. In turn, the North American team remained on their own, having six points in their assets.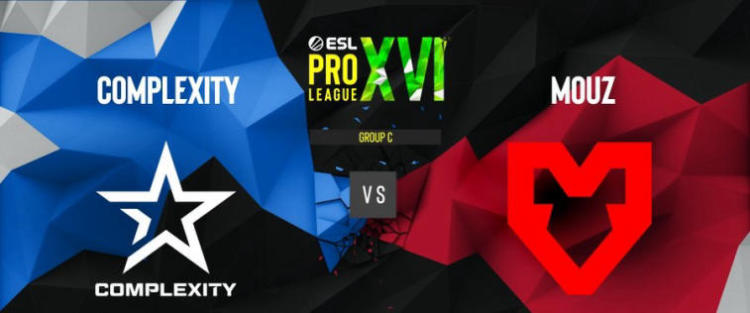 The second match of the game day started on the Overpass map, which became the choice of the North American team. However, Complexity clearly did not succeed with the attack, since the team managed to take only two rounds and actually said goodbye to the chances of a comeback - 13:2. Nevertheless, after the change of sides, Tc's wards managed to revive the intrigue, at some point getting close to the opponent. And yet, MOUZ managed to keep the earned advantage in order to take the lead in the series - 16:11.
Then the teams moved to the Ancient map, which turned out to be the choice of the "mice". Here everything started again not in favor of the North Americans, who could not find their game for defense. However, closer to the change of sides, Complexity managed to return to the game and close the gap — 9:6. Everything turned upside down in the second half as the North Americans held the key advantage. Despite all attempts from MOUZ to return, Complexity managed to put the squeeze on the opponent and equalize the score in the series — 16:12.
Everything was decided on the Inferno map, where the intrigue died at the very beginning. And the reason for this is the successful start of the "mice", which showed a strong attack and provided themselves with a comfortable backlog – 11:4. Well, after the change of sides, MOUZ finished what they started without a shadow of a doubt, having won the third victory in the championship — 16:7.
In the final round, the MOUZ team will play with HEET, while the North American team will meet with ENCE.
ESL Pro League Season 16 runs from August 31st to October 2nd in Malta at the Salini Resort. 24 teams from Europe, CIS, North and South America compete for a total prize pool of $835,000. The winner of the tournament will receive the main prize of $175,000, as well as tickets to BLAST Premier: World Final 2022 and IEM Katowice 2023.
Intermediate results of ESL Pro League Season 16
1st place: $175,000 + 2,800 BLAST Premier points + ticket to BLAST Premier: World Final 2022 + ticket to IEM Katowice 2023
2nd place: $70,000 + 1,400 BLAST Premier points
3rd-4th place: $35,000 + 875 BLAST Premier points
5th-8th place: $17,500 + 262.5 BLAST Premier points
9th-12th place: $12,000
13th-16th place: Team Spirit and BIG — $19,000
17th-20th place: Ninjas in Pajamas — $17,500
17th-20th place: MIBR — $12,500
21st-24th place: Endpoint — $11,000
21st-24th place: FTW - $6,000