The Fnatic team lost to DRX with a score of 1:2, thus leaving VALORANT Champions 2022. The European team finishes their performance in the championship, taking 5-6th place and earning $60,000. In turn, DRX advances to the semi-finals of the lower bracket, where it will meet the winner of the XSET match - FunPlus Phoenix.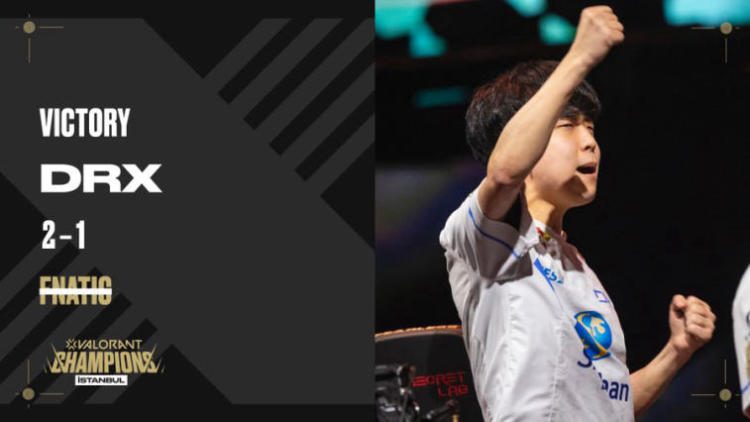 The opening match of the game day began on the Icebox map, which became the choice of the South Korean team. But if the teams showed an equal start in the first half, then after the change of sides the situation changed dramatically. As a result, Fnatic took control of the initiative, while the DRX team failed in attack and allowed the opponent to take the lead in the series - 13:7.
Next, the teams moved to the Ascent map, which became the choice of Fnatic. But if the first half ended with a two-fold advantage in favor of the European team, then after the change of sides, DRX managed to turn the game around and pull it into overtime. Here, the South Korean team took advantage of their chance to level the score in the series and bring the fate of the match to the desider — 14:12.
Everything was decided on the map Fracture, the first half of which ended in parity. However, after the side switch, Fnatic quickly disappeared from the server, allowing DRX to get the victory and make it to the next round of the competition - 13:9.
VALORANT Champions 2022 takes place from August 31 to September 18 in Istanbul at the Volkswagen Arena. As part of the championship, sixteen teams from Europe, North and South America, Brazil, South Korea, Japan, China and Southeast Asia are fighting for a total prize pool of $1,000,000.
VALORANT Champions 2022 Interim Results
1st place: TBD
2nd place: TBD
3rd place: TBD
4th place: TBD
5th-6th place: Fnatic — $60,000
7th-8th place: Leviatán and Team Liquid — $40,000
9th-12th place: Paper Rex, KRÜ Esports, 100 Thieves ZETA DIVISION — $25,000
13th-16th place: BOOM Esports, XERXIA, FURIA Esports and EDward Gaming — $15,000