The Paper Rex team lost to Team Liquid with a score of 1:2, thus leaving VALORANT Champions 2022. The team from Southeast Asia takes 9-12th place, having failed to make it to the playoffs. In turn, "liquid" leave group A, taking the second line.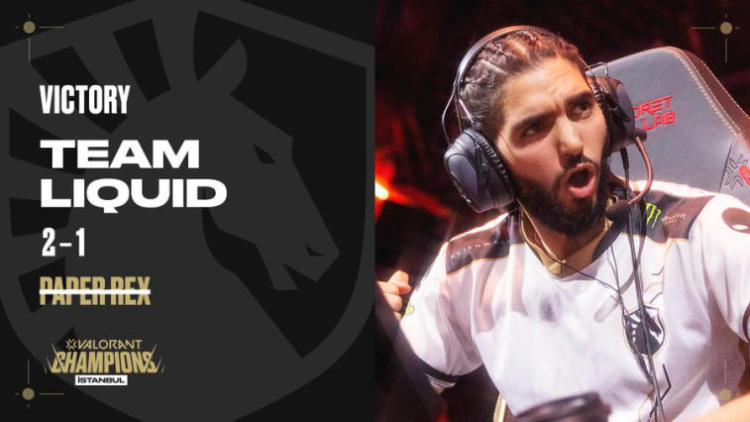 The first meeting of the game day started on the Haven map, which became the choice of the European team. At the same time, the teams showed an equal fight, keeping the audience in suspense. As a result, they had to play overtime, where Team Liquid players turned out to be stronger — 14:12.
The teams then moved to the Pearl map, which became the choice of Paper Rex. However, no struggle was foreseen here, since the team from Southeast Asia immediately seized the initiative and took advantage of the opponent's mistakes. As a result, Team Liquid came up with nothing against the opponent, while Paper Rex scored a quick rout and equalized the score in the series — 13:4.
Everything was decided on the map Ascent, the first half of which ended with a twofold advantage in favor of the European team. However, switching sides did nothing to help the Paper Rex players, who never managed to wake up. As a result, Team Liquid got a comfortable victory on the destroyer, thus knocking out Paper Rex from the championship — 13:8.
VALORANT Champions 2022 takes place from August 31 to September 18 in Istanbul at the Volkswagen Arena. As part of the championship, sixteen teams from Europe, North and South America, Brazil, South Korea, Japan, China and Southeast Asia are fighting for a total prize pool of $1,000,000.
VALORANT Champions 2022 Interim Results
1st place: TBD
2nd place: TBD
3rd place: TBD
4th place: TBD
5th-6th place: TBD
7th-8th place: TBD
9th-12th place: Paper Rex — $25,000
13th-16th place: BOOM Esports, XERXIA, FURIA Esports and EDward Gaming — $15,000