The G2 Esports team achieves a laborious victory over BIG with a score of 2:0 in the group stage of ESL Pro League Season 16. Thanks to this victory, XTQZZZ's wards gain another three points and catch up with the Outsiders in the group B standings. In turn, the German team suffers a second defeat in a row, depriving yourself of the next part of the chance to break into the playoffs.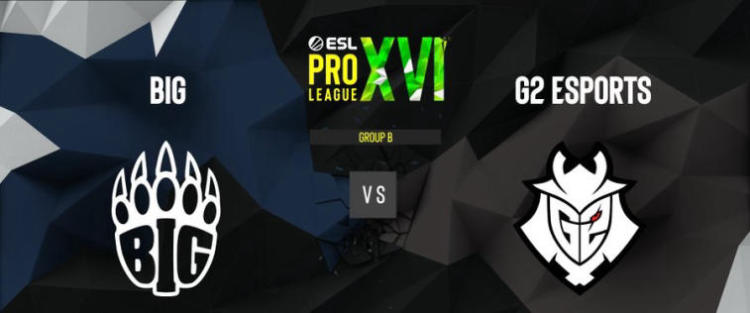 The second confrontation of the gaming day started on the Mirage map, which became the choice of the German team. At the same time, G2 Esports quickly seized the initiative on the server, managing to play an excellent half in defense and secure a two-fold advantage in the score — 10:5. After switching sides, BIG players managed to transform and even give a small comeback, thereby reducing the fate of the map to overtime. Nevertheless, the G2 Esports team turned out to be stronger here, which managed to show character and took the lead in the series — 19:16.
Next, the teams moved to the Vertigo map, which turned out to be the choice of G2 Esports. However, now the German team began to show exemplary defensive play, not giving the opponent a chance. As a result, BIG played well in the first half and ensured a comfortable start — 11:4. After the switchover, gob b's men quickly increased their lead, at some point starting preparations for the third map. However, here G2 Esports managed to wake up and switch the map to overtime. As a result, NiKo and the company finally put the squeeze on their opponent, thus obtaining the second victory in the championship — 19:17.
Tomorrow, September 9th, the G2 Esports team will meet the Portuguese from FTW, while BIG will play the Brazilian team MIBR.
ESL Pro League Season 16 runs from August 31st to October 2nd in Malta at the Salini Resort. 24 teams from Europe, CIS, North and South America compete for a total prize pool of $835,000. The winner of the tournament will receive the main prize of $175,000, as well as tickets to BLAST Premier: World Final 2022 and IEM Katowice 2023.
Intermediate results of ESL Pro League Season 16
1st place: $175,000 + 2,800 BLAST Premier points + ticket to BLAST Premier: World Final 2022 + ticket to IEM Katowice 2023
2nd place: $70,000 + 1,400 BLAST Premier points
3rd-4th place: $35,000 + 875 BLAST Premier points
5th-8th place: $17,500 + 262.5 BLAST Premier points
9th-12th place: $12,000
13th-16th place: Team Spirit — $19,000
17th-20th place: Ninjas in Pajamas — $17,500
21st-24th place: Endpoint — $11,000