Developer Psyonix has released details of the 2022-23 season of its Collegiate Rocket League (CRL). Along with the format details, the developers announced the expansion of the CRL to include Mexican universities for the first time. Automaker Nissan will also return as title sponsor for the 2022 Fall Split.
Fall is just around the corner, which means the Collegiate Rocket League (CRL) is here! The 2022-23 CRL season is approaching and we have all the information you need to register and be ready to go. There have been some changes and additions since last season, so let's jump straight into what you can expect from the 2022-23 CRL season!
First of all, the developers talked about the inclusion of Mexican universities in the ecosystem as part of the Western Conference. As a result, Mexican college teams will have the opportunity to qualify for the 2023 CRL World Championship.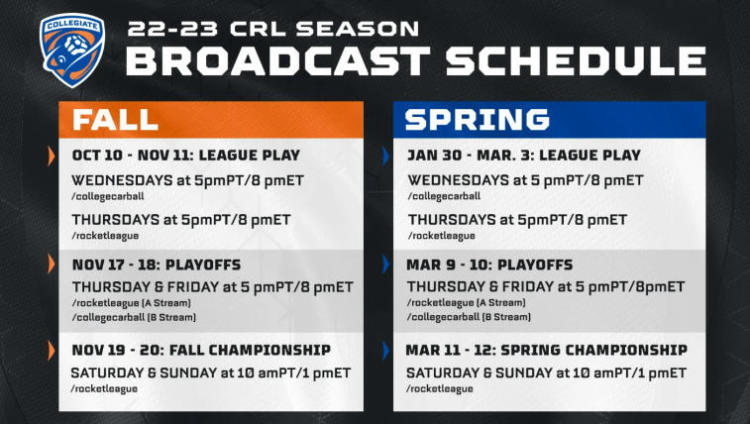 Collegiate Rocket League New Season Format
The season will consist of two splits
The Fall and Spring Split will feature 32 teams, 16 from each NA Conference (East and West)
Over $300,000 in Scholarship Awards and each North American Split will receive $100,000 in Scholarship Awards
The top eight teams from each conference will advance to the conference playoffs
The top three teams from the playoffs of each conference will compete in the CRL Championships in both the fall and spring splits.
48-team North American Last Chance (LCQ) Qualifier to determine last two CRL World Championship entrants
The European University Rocketeers Championship (EURC) is back after adding European universities last year. Details on Last Chance European Qualifier to be announced later
All championships will be interconnected with the CRL World Championship
Fall Split Schedule
September 25 and October 2: Qualifiers
October 10 - November 11: regular season
November 17-18: Playoffs
November 19-20: final championship
Spring Split Schedule
January 15 and 22: qualification
January 30 - March 3: regular season
March 9-10: Playoffs
March 11-12: final championship
March 31 - April 2: Last Chance North American Qualifier
Psyonix has reportedly entered into a partnership with the European University Rocketeers Championship (EURC), an independent organizer of the university's Rocket League tournaments, to host the league's European leg. Details of the European season will be published later.