EA Games has officially unveiled the details of the next Apex Legends Global Series 2022-2023 competitive season. The upcoming season will include LAN tournaments, new regional events, and changes to the Challenger series.
Apex Legends Global Series 2022-2023 Format and Schedule
The Apex Legends Global Series 2021-2022 was the largest for the pinnacle of Apex Legends esports to date. With an epic year that featured thousands of players from 79 countries and territories around the world, culminating in nearly 11 million hours watched during the Year 2 Championship alone, it's clear that ALGS is much loved!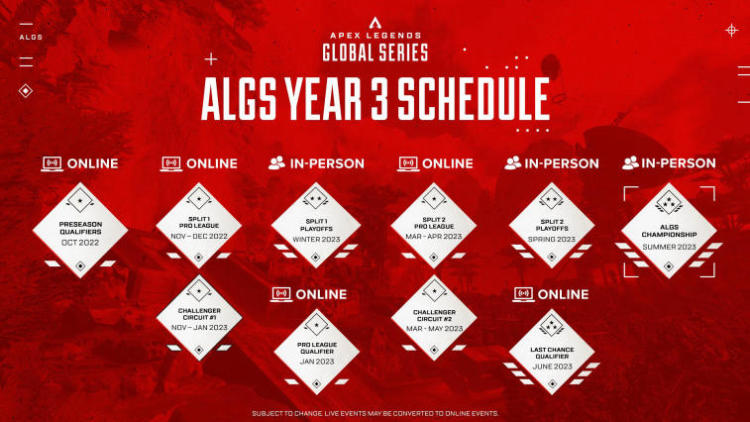 The new ALGS season will be divided into two tiers: the ALGS Pro League for professional teams and the Challenger for semi-pro teams. The competition will also host a total of several LAN tournaments.
regular season
After each team completes their 36 regular season matches, the top 20 teams will advance to the Regional Finals. The Regional Final will consist of a series of points matches, the winner of which is guaranteed a place in the playoffs.
ALGS Pro League
The number of participants in the ALGS Pro League for each region has been reduced to thirty teams. This measure is necessary, according to the organizers, to ensure the highest level of competition in this division. Each region will be assigned 22 participants. The remaining 8 spots in each region will go to the top teams in the pre-season qualifiers.
LAN Tournaments
Apex Legends Global Series 2022-2023 will offer participants a total prize pool of $5,000,000 and will include three LAN tournaments:
Split 1 Playoffs: Winter 2023
Split 2 Playoffs: Spring 2023
Championship: Summer 2023
Requirements for candidates
The minimum rank required to participate in the ALGS is now Silver IV (4). Players can earn this title by participating in the Apex Legends Ranked Leagues mode. This now increases the opportunity for more players around the world to compete in Apex Legends esports. In addition, pro players in the Pro League will have to compete on PC via Steam.
Challenger Series Updates
Another Apex Legends Global Series 2022-2023 enhancement is that the winning team in each Challenger Series will automatically qualify for the Split 2 Pro League Qualifier or Last Chance Qualifier, depending on the split.
Members of the ALGS Pro League
North America: 100 Thieves, Atlanta Premier, Counter Logic Gaming, Cloud9, Complexity Gaming, DarkZero Esports, E8, FURIA, G2 Esports, G-FORCE, Luminosity Gaming, NRG, Renegades, TSM, Sentinels, OpTic Gaming, Oxygen Esports, Team Liquid, Torrent, Spacestation Gaming, Tripods + TBA
Europe: ACEND, Alliance, AYM Esports, Bosh, Turkish Stars, Element 6, Electrify Steel Gaming, FA Kitties, Fire Beavers, FlavorOfTheMonth, Forg Gang, GMT Esports, Invictus Gaming International, Horizon, Natus Vincere, MajorPushers, Nemesis, Nessy, SCARZ, Totem Esports, Vexed Gaming and UNDERRATED
South America: 1iQ, 1Shoot eSports, Alpha Intelligence Esports, BreakingRulleZ, Brotherhood, Fragsters, FusioN E-Sport, GØDFIRE, HEAT, Horus, Infinity, Insanity, KRITICALRUSH, LeaveNoWitness, Most Valuables, No org, ODDIK, Onlyfans, Team Singularity, Toretto Gang, Tropa Do Justoo and Valhalla
Northern Southeast Asia: αDRaccoon, Crazy Raccoon, DetonatioN Gaming, DeToNator, Donuts Unsold Stuff Gaming, ENTER FORCE.36, Fascination Colors Destroy, FENNEL, Flora esports, Fnatic, FOR7, FUNNY LOCO, IGZIST, GHS Professional, KII, Lag Gaming, Meteor, MUSHIKING, REJECT, ORTHROS FANG, 456 and PULVEREX
Southern Southeast Asia: ANT Esports Club, ADAL Wolves, Antiaa, Buriram United Esports, Dewa United Esports, DML, DNZ, MDY White, EXO, DreamFire, DUGU Play, Moist Esports, NLN, X10, T4, PK, Sutoraiku, NXL WOLFPACK, North Side ESports, Revenant Esports, StinkyB and We Are Trash