Blizzard has announced its plans for seasonal content and a battle pass in Diablo 4 in their latest developer blog.
According to the announcement, Diablo 4 will begin releasing seasonal content in July, featuring "fresh concepts and ideas" four times a year. This means players can expect four seasons annually.
In a live stream for developers and accompanying blog post, the Diablo 4 team detailed their plans for the game's future, including seasons, free and paid battle passes, an in-game shop, and much more. Players can expect a wealth of new features and exciting opportunities.
Four seasons
Blizzard has announced that Diablo 4 will have four seasons per year, with the first season starting in July. Each season will have its own unique theme, but Blizzard has not yet revealed any details. However, they confirmed that the first season will not be zombie-themed, as many had speculated. The specific theme of the first season will be announced at a later time.
Each season will have its own standalone questline, introducing players to new and old characters, as well as new mechanics. However, this questline will only be available after completing the main campaign. Additionally, each season will add new unique items and abilities, which will be transferred to the "Eternal Realm" - the base game - upon the season's end.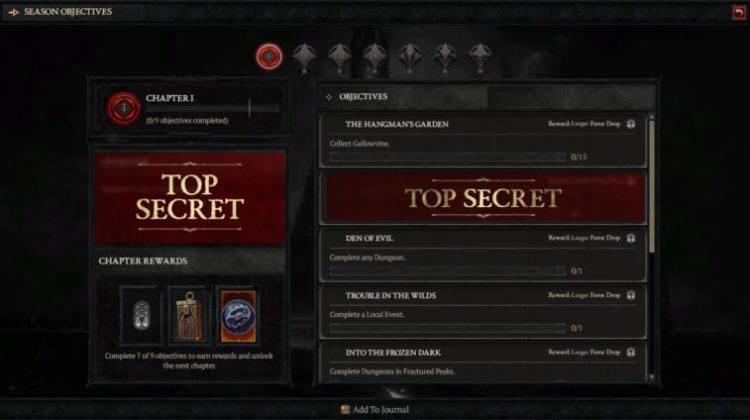 Diablo 4's seasonal structure includes the "Season Journey", which will help players quickly level up their battle pass. To do this, players must complete chapter quests and earn seasonal rewards, such as crafting materials and "Legendary Aspects" for the "Codex of Power". Completing quests will also earn players "Favor" - an in-game resource that can be used to increase their battle pass level.
Battle pass
Diablo 4 will have a Battle Pass system with three tiers: a free version, a premium version for $10, and an "accelerated" version for $25. The premium version will include everything in the free version, as well as a special cosmetic bundle and an additional 20 levels.
The free Battle Pass will consist of 27 levels that players can complete to earn cosmetics and "Smoldering Ashes" currency, which can be exchanged for "Seasonal Blessings" that may include XP, gold, and other benefits to aid in progressing through the Battle Pass.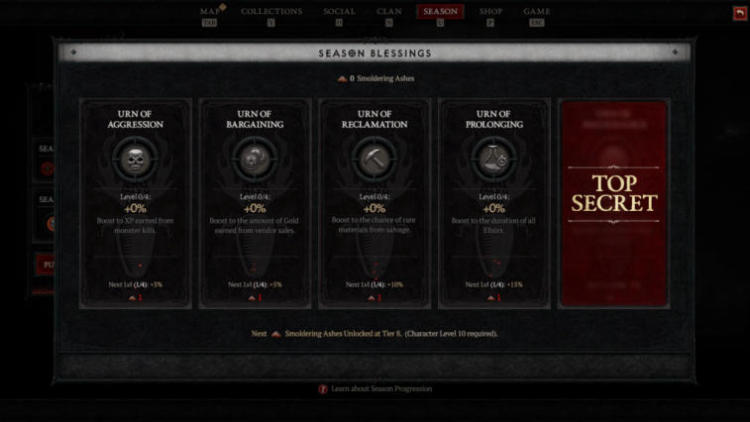 Blizzard assures that Diablo 4 will not become a "pay-to-win" game and that Battle Pass benefits will not give players in-game power without necessary effort. Many benefits will only be accessible after meeting certain requirements.
When purchasing the premium version, Blizzard promises that players will not gain any in-game power, only cosmetic items and Diablo 4's premium currency - Platinum currency, which can only be obtained with real money and can only be used to purchase cosmetic items.
Game store
Finally, Diablo 4 has introduced a store. It is hoped that this feature will be less controversial than in Diablo 3. Like the previous game, in the Diablo 4 store, players can spend real money on in-game items. However, the major difference is that Diablo 4's store only sells cosmetic items, not those that affect gameplay, such as armor and weapons.
The items in the Diablo 4 store will change regularly and will be chosen for the "traveler you want to become." Players will also be able to carefully examine any item they want to purchase, ideally avoiding feelings of guilt.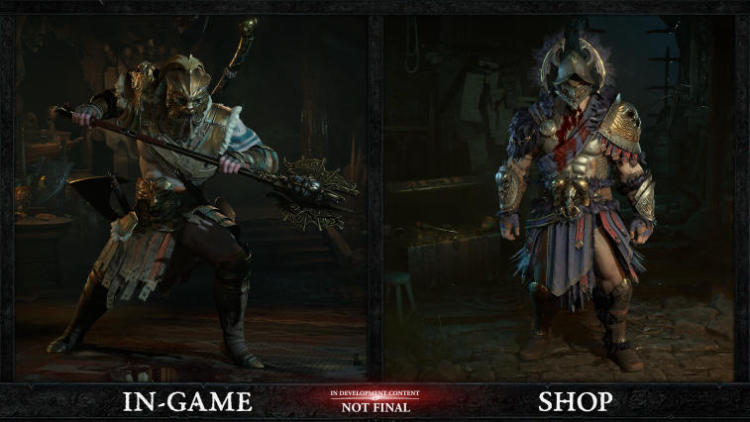 Overall, Diablo 4's plans are fairly standard for a game with a service component. This doesn't mean they are not well-thought-out or convincing. On paper, they are very similar to most online games with seasonal structures and battle passes.
However, the question remains whether anything sinister is hidden in the details. Similar issues have caused much criticism in the mobile game Diablo Immortal, but it is hoped that the main game with its pricing will avoid these problems.