In the world of gaming, the saying "art imitates life" rings true as developers often draw inspiration from real-world events to craft their virtual narratives. While games like Assassin's Creed 3 have skillfully woven historical events into their plots, others, like Red Dead Redemption 2, take a more nuanced approach. Within the vast landscape of Red Dead Redemption 2, players encounter numerous hidden narratives, with the enigmatic Vetter's Echo cabin being a prime example of Rockstar's dedication to infusing real history into their game.
Red Dead Redemption 2 boasts an intricately woven lore that continues to unveil its secrets years after release. Many subplots within the game lack official explanations, leading players to concoct theories and unearth hidden stories like the infamous Mystery Tree Faces. However, some storylines are straightforward and are rooted in obscure North American history, offering players a chance to learn while they play. Vetter's Echo is one such narrative, paying homage to a nearly forgotten chapter of the late 19th century.
Vetter's Echo is a Distinctly Real Event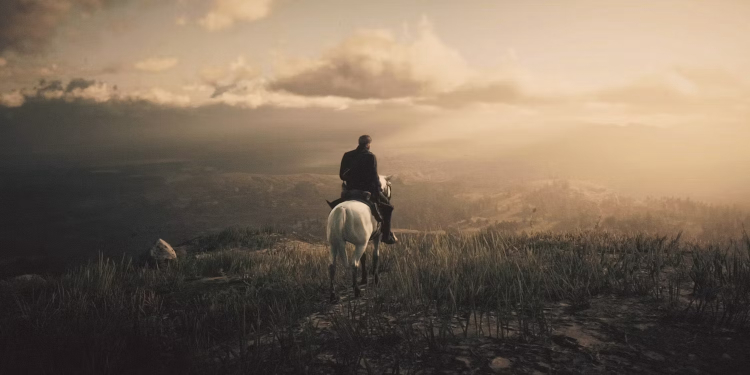 While jump scares are a staple of horror games like Silent Hill, an unexpected jolt of adrenaline can enhance any genre. Entering the Vetter's Echo cabin without prior knowledge of its secrets can be a heart-pounding experience. Nestled in the Big Valley region of West Elizabeth, players will immediately notice the cabin's back door hanging from its hinges, as if ripped apart by an unimaginable force. The absence of clues in the vicinity only adds to the suspense, leaving players unaware and ill-prepared for what lies ahead.
Upon entering the cabin, players are confronted by a colossal grizzly bear that wastes no time in launching a vicious attack on Arthur Morgan. Surviving this ordeal reveals a chaotic interior with an overturned easel and a cluttered desk. A lifeless body lies at the edge of a bed, the tragic victim of the bear's fury, with no indication of the person's identity within the shelter. This lifeless figure is none other than Phillip Henry Vetter, who met his demise in 1892 at the hands of a grizzly bear along Wyoming's Greybull River.
Phillip Vetter, a market hunter, had penned a note to a friend outlining his intention to confront a bear in the area. However, when the friend sought refuge in the cabin during an impending storm, they discovered the open door and Vetter's lifeless body, along with blood-smeared messages on a newspaper detailing the gruesome bear encounter. Nearby, Vetter's rifle lay by the river, bearing witness to the harrowing attack with two spent casings. Red Dead Redemption 2 faithfully recreates this scene, complete with a bloodstained tent housing a lockbox containing Rifle Cartridges, Predator Bait and the Special Miracle Tonic Pamphlet.
Rockstar also included Vetter's scattered writings within the cabin, such as the Dear Annabella and A Day's Walk poems. Departing from the source material, the game added gifts—a pipe for Dutch, a pocket watch for Lenny and Cigarette Cards for the Black Widow Spider. This meticulous attention to detail serves as a heartfelt tribute to Phillip Vetter, a figure largely forgotten in American history, showcasing Red Dead Redemption's commitment to resurrecting obscure tales for players to discover and appreciate.