Unleash your will to survive with a new legend and explore the reforged Kings Canyon with the launch of Apex Legends: Hunted. Fans have been waiting for the release of the 14th season of Apex Legends, subtitled "Hunted". We get acquainted with the innovations and changes that we can meet after installing the latest patch.
New Hero Vantage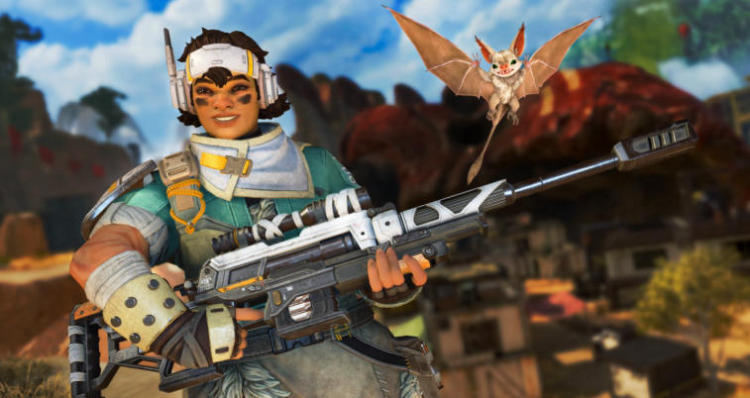 The cherry on top of Season 14 will be the addition of a new character. In a shortvideo, we have already been told about Siomare Contreras (Mara for short). She is a specialist sniper who grew up with her mother on Pagos, an eternally icy planet, and learned from childhood to survive in difficult conditions.
List of Vantage skills
Tactical ability - summons his companion Echo by pressing a key. Pressing again will dash in its direction.
Passive ability - After Mara looks at the enemy through the scope, all information about him is displayed: the size of the team, the distance to the enemy, the state of the shield and its discharge, the amount of health.
Ultimate Ability - Mara uses a unique sniper rifle that allows her to scan enemies and inflict additional damage on them. The squad will deal 15% more damage to the selected target, and Mara herself will double it after each successful hit.
She also has a personal pet, a little bat named ECHO. A funny story is connected with him: Mara writes a letter in which she asks permission to take a pet with her, referring to the Bloodhound and her crow.
Kings Canyon Map Update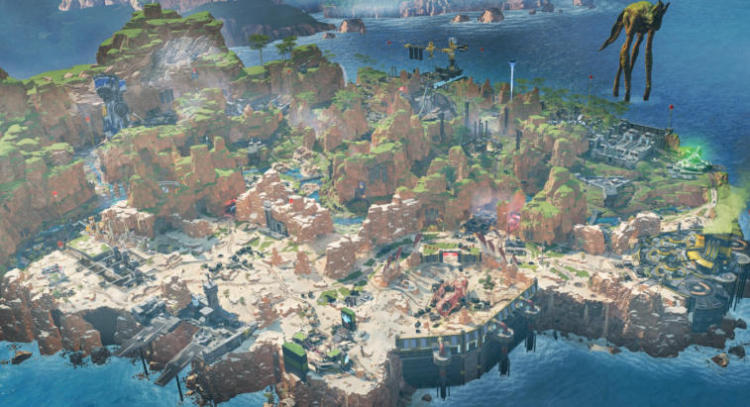 In season 5, the Skull City and Thunderdome were buried by a huge explosion set by Loba. With the rescue operations now complete, the Syndicate has converted the area to Apex Legends games. The dredges filled the sinkholes with ocean sand, and the new battlefield was restored and adorned with a legendary skull right in the middle. The winding, interconnected buildings in the central village will undoubtedly give the legends the brightest impressions.
Short list of changes
New location added: Relic.
Improved old locations: Hill, Relay and Cage.
Routes have been changed.
Updated loot.
Reworked sky and lighting textures.
Check out the full map update for Kings Canyon.
Battle Pass
In addition, the Safari-themed Battle Pass "Pursuit" has appeared in the game. It includes over a hundred different awards. Upon completion of the tests, players will be waiting for premium sets for Fuse, Pathfinder, Mad Maggie, Newcastle, BloodHound. These will consist of unique skins, trinkets, sprays, and new variable weapon skins.
Legendary buffs and nerfs
Valkyrie
SVPP
VTOL activation acceleration reduced by 8%.
Activating VTOL now increases fuel consumption by 33%.
Added a medium orange state between green (over 60%) and red (under 30%) to the fuel meter UI.
Strafe and Air Haste gain a 20% debuff when hit by slow effects.
missile swarm
Explosion radius reduced from 175 to 125.
Aim/Turn slow has been removed.
Movement slow duration reduced from 2.5 seconds to 2.0 seconds.
Dive into the sky
Height reduction by 25%.
Ultimate will now move up at a slightly slower rate as the launch time has been reduced from 5.5 to 5 seconds.
Mad Maggie
Riot drill
Projectile launch speed doubled.
Wrecking ball
Maggie's ultimate will travel twice as far but drop the same amount of speed magnets.
Duration increased from 5 to 10 seconds.
Magnet spawn delay increased from 0.4s to 0.8s.
Enemy objects such as the Black Market, Castle Walls, Death Totem, Reinforced Rampart Cover, and others are now damaged by Destruction Ball. Now he will destroy Gibraltar's Protective Dome.
Fixed an issue where the Wrecking Ball was not blinding or slowing enemies.
Newcastle
mobile shield
Health increased from 350 to 500.
castle wall
Added turn slow to electrical barrier effects and increased the severity of the slow motion effect.
Extract the wounded
Movement speed increased by 25% when respawning teammates.
Reduced turn slowdown on respawn by 50%
Increased White Knockdown shield durability from 150 to 200.
Blue Shield Knockdown health increased from 250 to 300.
Mirage
Mirage decoys
Decoys will now be scanned by the Valkyrie while skydiving.
Decoys will now be picked up by the Seeker's Heart Seeker.
Fixed an issue where Decoys were picked up by the Seer's Exhibit as the AI and not the players.
Horizon
Black hole
NEWT's hitbox has been adjusted to be more reliable.
NEWT takes 50% more damage from explosives.
Watson
Improvements in the perimeter security placement system
survivor
Death Totem will now display placement previews upon activation, rather than immediately.
Shaft
Placing walls around squad mates will be smoother as the Amped Cover now ignores friendly collision when placed.
Full changelog with the release of Apex Legends Season 14, subtitled "Hunted".